We think we're glad you asked.

We also have to wonder how many other legal entities have such silly, inauspicious beginnings. In the interest of the Whole Truth, here's how GB Tango came about:

If you've read the story of the Tarot de Cooperstown, then you came across its first sentence, which mentioned that we met at the Cooper Union in the fall of 1975. We were freshmen art students, and we were also roommates. Cooper at the time had no dormitory facilities, but the Fashion Institute of Technology had just built student housing on West 27th Street, and, incredibly, was not able to fill it with students of its own. So with about a dozen other Cooper students, that's where we lived for our first year at college.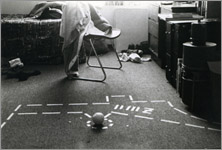 The two of us got along well as roommates. We divided our room just about in half by a meandering dashed-line of masking tape on the carpet, with a corridor allowing Paul access to the door. A de-militarized zone was neatly outlined at a certain point along that border, and a common, prized possession (an irregular plaster sphere, a bit larger than a softball) was allowed to occupy the DMZ in relative peace.

In October of that year we created a poster, and hung it in our building lobby. Purportedly made by the resident manager of student affairs at the FIT dorm, it featured a sketch of a whirling figure with an oversized mandrill head. "I WANT A TANGO PARTNER!" the headline proclaimed. Beneath the mandrill, the text continued: "Preferably a beginner, because I'm learning, too!" Interested persons were invited to "dance on down" to Dave's office in Room 206 and announce themselves.

Remarkably, the poster stayed up for about a week. And there were no repercussions for this bit of teenaged mischief. We were delighted, and decided to take on alternative personas; sort of like avatars. Jim would be a hamster named Bruno, and Paul would be Gomez, a blind donkey. We did not put much time or effort into these characters. They were inscrutable. They were basically meaningless, and we were fine with that.


In November, "Gomez and Bruno" scaled the extracurricular activity up a bit. We pretended that there would be a tango banquet (and ball) on two subsequent evenings at the Felt Forum, which was the name given to a large concert venue (now Madison Square Garden Theater) just up 7th Avenue. We made as decent a hand-lettered flyer as we could to announce the fictitious event. Flouting copyright infringement laws, we blithely screened a black and white photo of Elie Nadelman's lovely, wooden sculpture of tango dancers and added that to our paste-up. We then had a few hundred flyers made at an offset print shop near Cooper and put them up around Manhattan.

In the ensuing weeks, we actually received some of the "ticket portions" of the flyers back in the mail, but we failed utterly to conduct any kind of follow-up. In good conscience, we should at least have written back to those who asked for tickets to explain that there was no such banquet and ball. Looking back, we hope that nobody actually showed up at the Felt Forum either night.

It was at about that time that school became enough of a time sink that there were no further pseudo-events for us. But we called each other Gomez and Bruno for quite a while anyway.



Almost ten years later, we collaborated on the Tarot de Cooperstown. We decided that if we were to manage to have it printed, we would do so as GB Tango ~ an homage to our youthful selves. Little did we realize that it would ultimately be so long a wait.